Why online handouts
Education and training via the internet are growing rapidly. Easy accessibility from home or school makes Internet handouts a viable alternative to hardcopy handouts. These PDF handouts can be accessed any time and from anywhere using any type of Internet connection.
| | |
| --- | --- |
| The Adobe PDF format is used for all online handouts, permitting fast download time plus accessibility on both Windows and MAC platforms when using Adobe Reader. Many portable media devices also permit PDF downloads, especially the Apple iPad. | |
Webclass provides
Workshop handouts available anytime, anywhere using any mobile device permitting PDF downloads.

Perpetual lesson plan calendar makes date selection easy, accurate, and fast.

Web-based Keyboarding can be used without login or account setup. Students can access and practice keyboarding lessons at home or school using any device with an external keyboard.

The curriculum consists of basic keyboarding lessons plus optional timed writings. Emphasis is on touch typing while not looking at the keys.

These free online keyboarding lessons are compatible with Android, Chrome, iOS, Mac, and Windows operating systems.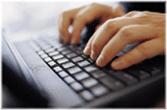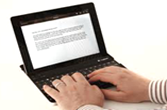 After all, Webclass.org can be anywhere you want it to be . . .